Tarryn Fisher
Author of debut novel The Opportunist
Tarryn Fisher has caused an explosion of emotion with her debut novel The Opportunist. It is leaving readers absolutely speechless. It blurs the line between love and hate, like and dislike, want and need, right and wrong. Even after you're done reading, the storm of feelings will consume every thought and emotion for days to follow. This book will change everything!
What reviewers are saying:
"

I was confused. I was sad. I was mad. I was in love. They were so pure of love and hate."

"

Wow. This book destroyed me. I don't even know where to begin. I hated it, loved it! It was a COMPLETE mind f*ck."

"

Wow. I am completely at a loss as to what to say. This book was great, but also completely f**ked up at the same time."

"

I am too upset to leave a review right now..not even joking..but this has to be one of the most emotional stories EVER, it deeply affected me..That's all for now....More to come when I have processed this story..if I can!"

"

Please check back to read my review at a later date. Maybe a month from now, I will be off the emotional rollercoaster that is The Opportunist."
Full review: Click
here
Q:
Where did you get the idea for The Opportunist?
A daydream. I was sitting in Starbucks and I'd recently broken up with someone, and I thought; if he walked in here right now and he didn't remember me would there still be chemistry? I knew right away that I would take complete advantage of the situation. So, I went home and started writing about it.
In the beginning we were one, but somewhere along the way she started making choices that I wouldn't and she became her own person. However, we share strong similarities.
Q:
A general census of the reviews so far is that readers love AND hate the book. When you were writing The Opportunist did you imagine it would cause such emotional turmoil?
Stephen King says to torture your characters, so that's what I did. It caused me pain to do it, so I knew the reader would feel some of it too. But, in no way did I expect the reaction I am getting.
Q:
Okay, so that kind of answered this next question, but did it break your heart to write Caleb breaking all of out hearts? Please tell me there was method behind that madness (i.e. office scene)
We saw that scene through Olivia's eyes, Caleb's turn to speak
is coming.
Caleb will redeem himself. That's all I can say :-)
Q:

Which brings us to the sequel! Book two is suppose to be from Leah's POV, considering we all hate that biotch how do you plan on keeping readers tuned in?
I think that if I can make me love Leah, I can make the reader love Leah. Currently, I still hate Leah. I will tell you this; I based her character on the "Leah" in the Bible and she was always second choice to her husband and a pawn in her father's game.
Q:
Will the next book be strictly Leah's POV or will it alternate with some of the other characters *cough* Caleb and Olivia *cough*?
It will be solely her POV. BUT, you will know what is happening in Olivia's life and of course Caleb will be very present. You will get to see a very different side to Caleb. Leah and Caleb's relationship is very physical.
Q:
So what is the ETA on the release of the next two books?
I am writing both at the same time. Things are moving along very quickly. I expect to be finished and put them through editing in the next few months. Music really helps me write. If I have good music, I write faster.
Q:
LOL (Last question)...Is there anything you can leave us with; teasers a bit of advice ANYYTHING to get us through post The Opportunist mental crisis?
I'm an emotional sadist. I don't want to comfort you, I want you to come back and read the next book. I'll leave you with this snippet from Dirty Red. It's Cammie speaking by the way...
"It's not fun to play second choice, is it? There is a possibility that you feel like you're worth more than being Caleb's marriage of pity, and if that's true than you should jump ship now. It's only a matter of time before the Caleb/Olivia saga starts up again."
GIVEAWAY RULES
For an opportunity to win this amazing book, the only requirement is you must be a follower of Tough Critic Book Reviews! Earn bonus points by liking my review of

The Opportunist

on goodreads (
link
)
or by posting my giveaway button on your blog. One winner will be chosen on
June, 9th, 2012.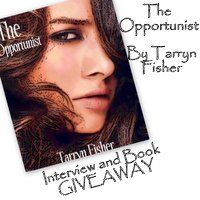 a Rafflecopter giveaway