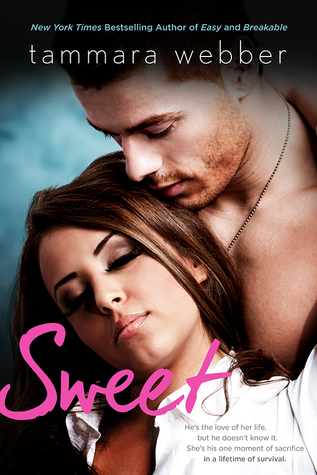 SWEET (Contours of the Heart #3)
NA Contemporary Romance
Blurb:
He's the love of her life, but he doesn't know it.
She's his one moment of sacrifice in a lifetime of survival.
He was damaged and wild, but resilient.
She's always been obedient. Now she's restless.
Home for the summer between college and med school, Pearl Torres Frank knows two things: Boyce Wynn is the embodiment of everything she should run from, and everything she wants to run to. Rebellious and loud. Unconcerned with society's opinion of him. Passionate. Strong. Dangerous.
And one more trait he hides from everyone but her:
Sweet.
Review:
Tammara Webber is an absolute gem. There is such beauty and purity to her writing, never adding unnecessary drama or extraordinary situations for shock value. She doesn't follow other writers off the cliff of what's "in the moment." It's refreshing. The title Sweet says it all.

Told from dual POVs, Sweet sucked me into an incredibly romantic story between Pearl and Boyce, and the very special connection they formed as children. It was their history that added an element to the plot that I usually seek when I'm looking for my next read. Romance, forged from the evolution of a childhood friendship, is my Nirvana. It's my crack. It's my happy place. This was my happy place.

Their story is told through flashbacks concurrently with the progression of the present story, and this is done seamlessly. It was the flashbacks that made me fall in love with their relationship; it gave the story so much depth I was in China. It was so incredibly well written that it made it hard for me to want to come back to the present. Most of the stories heartwarming romance is wrapped up into their history where the present is more focused on their journey and self discovery. Both are beautiful things, but I found myself wanting more of the past, and a little less connected with the rest of the story. Regardless, the chemistry is amazing and I love how this story provided new insight into characters we already knew, or at least we thought we did ;-)

No matter what Tammara Webber writes, her secondary characters always seem to shine (loved me some Sam). It is that talent that makes books like Sweet possible. Even though it is interwoven with the Contours of the Heart series, it CAN be read a standalone, but if you don't read Easy then that is just really unfortunate for you.

I truly love reading Tammara Webber novels. Though she does tackle some difficult situations, everything she does, she does it with class.

READ ON!!

About the Author:
New York Times and USA Today bestselling author of EASY and BREAKABLE (Contours of the Heart series - NA), as well BETWEEN THE LINES, WHERE YOU ARE, GOOD FOR YOU and HERE WITHOUT YOU (Between the Lines series - YA/NA).
I'm a hopeful romantic who adores novels with happy endings, because there are enough sad endings in real life. Before writing full-time, I was an undergraduate academic advisor, economics tutor, planetarium office manager, radiology call center rep, and the palest person to ever work at a tanning salon. I married my high school sweetheart, and I'm Mom to three adult kids and four very immature cats.
Connect with Tammara:
Website
Facebook