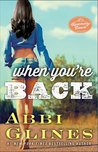 When You're Back by Abbi Glines
My rating: ★★★ 3.5 stars ★★★
Links:
Amazon
iBooks
Barnes & Noble


Description
From #1 New York Times bestselling author Abbi Glines comes the next new adult novel in her beloved Rosemary Beach series, which continues the story of Mase and Reese from When I'm Gone.

She was where my home would always be. It was time I took the next step and proved to her I was all in. Forever.

A chance meeting in Rosemary Beach has turned into a fairy-tale romance as Reese prepares to move in with Mase on his family ranch in Texas. With the loving support of the Colts, and her recent discovery that she has family of her own, Reese can finally move on from the dark horrors of her past and into a bright future.

But Aida isn't going to let that happen. The beautiful blonde has been raised to think of Mase as her cousin, but it's clear to Reese that Aida doesn't love Mase like a cousin should.

And then there's Captain, the inescapable stranger who has connections in Dallas and Rosemary Beach—and who conveniently shows up wherever Reese happens to be. Hot, mysterious, and plain-speaking, Captain isn't afraid to tell Reese what he thinks about Mase—and how he feels about her.
As the competition for Mase and Reese's hearts heats up, Reese's past begins to unravel, illuminating shocking truths that will forever change the lives of the happy couple—and set the final stories of Rosemary Beach in motion.
Dear Abbi,
There are heroes and then there are heroes. Mase-Colt Manning is the hero. Just his name elicits feelings of strength and protection. Not to mention, it's damn sexy, and that's just his name. He owns it, and lives up to every single syllable. This is why I fell so hard for him in When I'm Gone. You created that. You did that.
When You're Back gives us more of that. So, thank you.
As much as I do love Mase, I went into this book not really certain I wanted another one. Everything seemed to wrap up so perfectly for Mase and Reese at the end of When I'm Gone, but then it ended with that "surprise visit" at the apartment. I was totally caught off guard.
I guess my fear was that in order for there to be a sequel, more drama would need to be created between Mase and Reese. Relationship drama. I wanted unicorns and rainbows…..and really hot sex.
When You're Back left me a little indifferent. I wasn't a huge fan of the Aida drama, not at all. Not because of anything you did, I just liked the other concurrent storylines so much better, and felt Aida added unnecessary drama. It was also nice to see a little growth from Reese, but it also meant fewer opportunities for Mase to be the hero. This book was about her strength.
Regardless, the rest was gripping. The return of Marco. WOW! And then the twist, THE twist!! You definitely ended strong. The "shocking truths" are what kept this story alive. Sometimes I love how your mind works.
I did enjoy When I'm Gone a little more, but I absolutely loved getting more Mase. This book wasn't necessary, but it's almost like you write these sequels for no one other than your fans. You indulge them, and that is why I love you. That is why I respect you. And that is why people keep coming back for more.
Your fans are definitely going to be indulged!!
Sincerely,
Your Reader
Rosemary Beach series reading order:
View all my reviews